Peter Brooks M.I.A.M.E.
Director
Certificate of Trade Studies Automotive Mechanical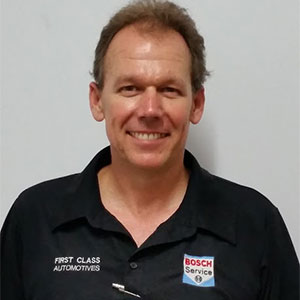 Certificate of Trade Studies Automotive Mechanical
Peter has experience in the automotive industry dating back to 1985. He received an Apprentice of the year award in 1987 while working at Shell Alexander Park, then qualified with a Certificate of Trade Studies in Automotive Mechanical in 1989. In 1992 he was awarded entry to the Institute of Mechanical Engineers, in 1996 he was upgraded to Member status. He worked as a mechanic in Mt Lawley before being appointed workshop manager of a busy automotive workshop in Girrawheen. Then a fantastic opportunity presented itself and Peter teamed up with Nigel to establish First Class Automotives in 1994.
Nigel Oborne
Director | Certificate of Trade Studies Automotive Mechanical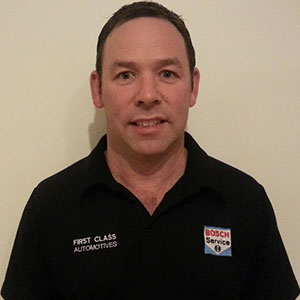 Certificate of Trade Studies Automotive Mechanical
Starting in the industry in 1987 as an apprentice restoring European Cars, Nigel soon learnt that customers really wanted their vehicles regularly maintained and serviced by a qualified and trustworthy mechanic. So together with Peter Brooks (Business Partner and Director), they both started First Class Automotives, which ultimately became his number one commitment, teamed with second to none customer service. Within this timeframe, Nigel has completed four Bosch Management Courses & five Bosch Training Courses. Under his belt, Nigel was on the Bosch Service Council for 3 years and to date is heavily involved in the Automotive Independent Repairers Group (Australian Automotive Service Dealer Network).
Larissa Dybing
Reception and Accounts
Certificate of Trade Studies Automotive Mechanical
Since joining First Class Automotives, Larissa has already proved to be a great asset to our dynamic team. Her enthusiasm, as well as her warm nature, has been the pinnacle of our welcome that our clients receive as they are greeted at Reception. Larissa's 10 years' experience in the Administrative field, as well as her personal experience and knowledge of the Automotive Industry, has allowed her to extend her passion through her day to day working environment.
Jarred
Leading Hand Automotive Technician | Certificate of Trade Studies Automotive Mechanical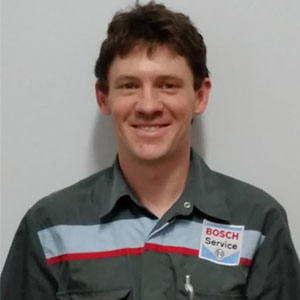 Jared entered the Automotive Industry as an apprentice after training in Electrotechnology at Central TAFE. He has a keen interest in computers, technology and electronics, both real and science fiction. In his spare time, he enjoys computer games, scale models, hobby robotics and camping. Jared began his apprenticeship with First Class Automotives in 2007, continuing on as a technician upon completion. He is now the workshop leading hand, as well as a Bosch Certified Diagnostic Technician.